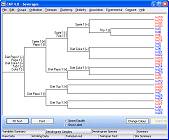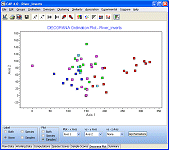 View the methods available in CAP
:
NMDS
DECORANA
TWINSPAN
Principal Component Analysis
ANOSIM
SIMPER
Discriminant Analysis
Agglomerative Clustering
Variable Filtering
Reciprocal Averaging
Similarity & Distance measures
Divisive Cluster Analysis
Association Analysis
View the video demonstrations from CAP:
CAP - general introduction
CAP - input & output
CAP - grouping
Explore all the new features of CAP 5.0
Explore the full Help system online
Community Analysis Package (CAP)

Latest version 5.3.3.472
Price: £194.00
+ postage/VAT
Community Analysis Package 5:
A unique range of analyses available, covering both metric and non-metric methods, in one easy-to-use package
The methods for assigning groups have been completely revised and simplified
Plotting of graphs and dendrograms improved, and print options expanded; get your results ready for publication, quickly and easily!
The demo includes a wide range of data sets; the video guides are on YouTube and the complete Help system is available on this website, so you can see exactly what CAP5 can do for you.
Unlike non-commercial packages, we offer full free support by phone or email - so you can complete your analysis when it really matters, and you get the help you need, when you want it!
Suitable for undergraduate and post-graduate students and researchers in a wide range of sciences,
CAP5
is a general multivariate analysis package for Windows PCs, with excellent graphics. It is easy to use and affordable. It offers all the analytical techniques commonly used by community ecologists, and all other fields of research that use multivariate methods, including biology, geology, archaeology, anthropology, economics and sociology. It is particularly useful for ecological teaching because it allows students to quickly enter data, try different transformations, and explore a wide range of methods within a familiar Windows setting.
Community Analysis Package 5 gives you superb graphics, ease of use, and top quality support, with all the methods you need - in one software package!
Bundle discounts
Ecom/CAP - £247
Ecom/CAP/SDR - £310
Student discounts
Ecom/CAP - £137
Ecom/CAP/SDR - £200
Prices exclude postage/VAT
ADD-ON:
Get the accompanying PowerPoint lectures "
An Introduction to Multivariate Statistics
" for only £12 + VAT.